Tripawds is a user-supported community. Thank you for your support!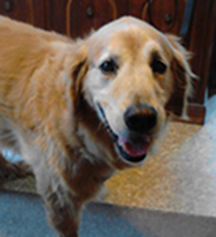 Well I am back to work again which means I'm gone for the week and Dennis is managing all the pups and kitties again by himself. He calls every morning and every night with a report on everyone.
Yesterday (Monday) was Buddy's first day out in the yard with the girls. The Chowchow is kind of like his mom and the hound is clearly his girl friend and the little furry monster is definitely his pesky little sister.
Dennis says Buddy is really happy to be on his own again doing whatever he wants to do, barking with the pack when anyone walks by on the street or through the back alley, lying around in the doggy holes, and greeting the neighbors. So he is a happy boy.
When I come home on the weekend we'll start walking each day and try out the harnesses to see which one helps us get in the car and maybe even go back to the dog park!
But for the rest of the week I'll be working so next posts will be this coming weekend. Sending lots of hugs out to you all and your wonderful pups and kitties.